Copyright: stokkete / 123RF Stock Photo
Mobile subscriptions are set to reach a staggering 9.3 billion by 2019. According to Ericsson, 5.6 billion of these subscriptions will be for smartphones, and smartphone traffic is expected to increase 10 times between 2013 and 2019.

Wireless industry association CTIA indicated that users show a more immediate and dramatic response to mobile marketing compared to other forms of promotional content.

For example, the average person takes 90 minutes to respond to an email, but just 90 seconds for a text message.

[Tweet "the average person takes 90 minutes to respond to an email, but just 90 seconds for a text message."]

These numbers drive a message that many colleges and universities are taking seriously - when it comes to marketing in the education sector, having mobile in your marketing mix is key.

To stay ahead of the mobile marketing curve, here are three trends you need to know:


Bring your A game: Create top-notch mobile experiences

How long does it take a user to leave a web page if they don't like the experience? Just a mere three seconds. And that's for desktop users. When it comes to mobile devices, users may hold higher expectations, which makes it even more challenging to garner a high-level of user engagement.

Yet, it is essential that higher education marketers do so to leave a favorable impression on prospective students. A study conducted by research firm Latitude indicated that 61% of survey respondents had a better opinion of brands with a great mobile experience.

If your users don't like the mobile experience or find it outdated, it creates a poor impression on how innovative an institution is, and sends out a negative message about the type of day-to-day user experience they will get after enrolment.

3 golden rules to crafting top-notch mobile experiences

So what makes a great mobile experience? There are three rules that apply:
Fast

: The app

should be fast on two aspects - in terms of download time, as well as the time it takes for the user to perform a task.
Easy-to-use

: The user should be able to navigate through features of the app easily.
Rewarding

: Each mobile session should help the user achieve a desired result or provide a benefit. For example, the user obtained information about the university's application deadlines (desired result), or received a free gift for downloading the app (benefit).
Case study: University of British Columbia's (UBC) mobile app makes application processes a breeze

With a significant rise in mobile visits to the school's prospective student website (mobile traffic increased by 95%, and the use of tablet devices to access the site increased by 92%), it was crucial that the UBC create a platform that helped prospective students navigate its site and obtain information effortlessly.

Through the UBC Prospective Undergraduate Students app, users get an overview of the entire application process through short videos, and are kept engaged through an interactive Viewbook and a stream of motivational content.

A few taps on the mobile is all it takes to discover essential information like application deadlines and fees, as well as to share information and videos on social media channels like Twitter and Instagram.

The app garnered a positive response from students. More than a thousand students stopped by a booth the school had set up to collect feedback on the app - a clear indicator of the importance they placed on having mobile access to college information.

Tips and takeaways:
Listen to your users and let their needs drive the features included in the app.

Adopt an agile model. Add new features over time, and gather feedback from your stakeholders on a constant basis.
Uncover the potential of location-based marketing

Geo-targeting - delivering content to the target audience based on their location - isn't new in the digital marketing scene. The newer addition to the field, geo-fencing, falls within the scope of geo-targeting. It differs from the latter in that it relies on a device that uses a GPS, and allows for audiences to be targeted in very specific geographic areas. Users get a text message or app notifications when they enter a predefined area set up with a geo-fencing marketing tool.
What opportunities does geo-fencing bring to higher ed marketers?
This trend presents plenty of opportunities you can tap on. Students at on-campus tours are high-priority prospects, and geo-fences can be drawn around buildings or areas within the campus to inform them of relevant events as they occur. Or adopt the stance of geo-conquesting, by drawing up geo-fences around the campus of competing institutions to reach out to students visiting these universities during peak recruitment periods. The scope isn't limited to prospective students - alumni returning back to campus for events may also be notified of community engagement and fundraising activities.


Skate to where the puck is going
Say goodbye to printed handouts, lackluster websites and traditional media channels. It's time to veer off the well-beaten path, and spend your advertising dollars where it counts. You'll need to answer two critical questions: What are the platforms that my target audience enjoy using? Which channels do they spend a significant amount of time on?

Visual storytelling is trending: Score a hit with Instagram
Take a look at social media trends, and you'll find that mobile and image-based content are rising in popularity. It comes as little surprise then that photo-sharing mobile app Instagram is emerging as one of the best platforms for student recruitment. In fact, click-through rates on Instagram ads are 2.5 times higher compared to other platforms. With more than 75% of its 400 million users residing outside the US, the app offers tremendous potential in terms of outreach for international student recruitment.

Music moves the soul: Invest in advertisements on Spotify and Pandora
But it's not just images and social media. Don't miss out on online radio services like Pandora and Spotify - avenues that a majority of students use for music on their mobile. On Pandora, messages can be communicated via display ads or integrated seamlessly into the listener's experience as audio messages. With Spotify, you may take your pick from seven different ad formats, ranging from audio ads and display ads, to branded playlists and advertiser pages.

Case studies: Lewisham Southwark College (Instagram) & Woodbury University (Pandora)
Take a leaf out of the books of institutions that have taken the unconventional route and scored a hit with their advertisements. Lewisham Southwark College selected a series of colorful images focusing on community building when it launched its first Instagram advertising campaign. The campaign was a hit, achieving a total of 300,000 impressions. It also garnered high engagement levels, generating a whooping 6,000 clicks and more than 9,000 likes.
Woodbury University garnered a whopping 4,000% increase in site traffic through its advertisement on Pandora, with 97% of the traffic being unique visitors. Through the platform's proprietary and third party targeted capabilities, the university delivered its messages to in a seamless manner to a range of target audiences for its graduate and undergraduate offerings.

Tips and takeaways:
Advertise on platforms that your prospects are highly engaged with.

It's important to understand the unique ways that each platform works. Let's take Instagram as an example. You'll need to find out what prospective and current students are sharing about your school, and identify popular location tags and hashtags. It also helps to have an awareness of the norms of the platform and not exhibit practices that offend the community, such as over-posting or using low-quality images.

To sum it up...
Create a winning mobile experience for your users - one that is fast, easy-to-use and provides a reward or benefit. Remember, listening to their needs is key, so make feedback gathering an ongoing process.

Nail down prospective students at the right place and time with location-based marketing strategies.

Target channels and platforms that your prospects are highly engaged with - these are the best avenues to reach out to them. Gain an in-depth understanding on the unique ways in which each platforms works, and how users interact with each other and with your brand on a specific platform.
Want more mobile marketing insights?
To find out more about how to deliver a winning mobile experience, check out our mobile app design and development services.
And if you are keen to gain a practical look into mobile marketing, attend our website and mobile user experience workshop on 8 June in Singapore.
For more information on how you can create a complete mobile marketing strategy and increase your bottom line, download the complimentary Mobile Marketing Success Kit.
Get Your Copy Today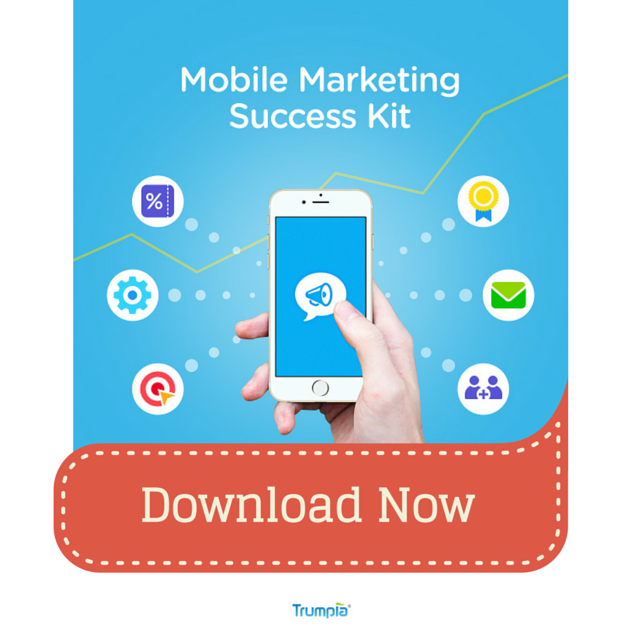 About the Author
As a partner at the Singapore-based digital marketing consultancy Happy Marketer, Sanchit Mendiratta has designed mobile websites, strategized marketing campaigns and created location-based listening softwares.
He has also spearheaded geo-marketing campaigns for clients like Kaplan, The Coffee Bean & Tea Leaf, and Nanyang Business School, targeting niche pockets like conference locations, schools, and malls.
Recently, he's been advising key clients like Tigerair, Greenpost and Singapore Press Holdings on increasing mobile app downloads, app marketing, measurement of costs, engagement and usage data.