Summer is here, so that means it's time for Summer sales for retail stores!
Most retailers are rethinking their strategies and looking for a better way to communicate with customers. That's why text message marketing for retailers is taking off, because there is no more effective way to reach new customers than directly on their phone!
Download our Retail Brochure for Free!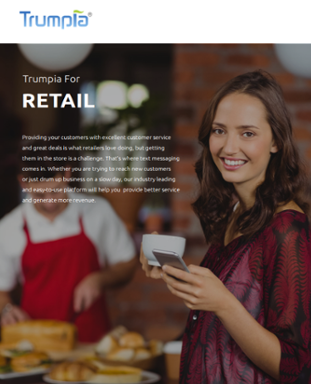 Whether it's a mobile coupon or an announcement of a summer sale, SMS messaging is the perfect way to reach customers wherever they are, and get them to come into your stores. Here's how:
Use SMS Marketing to Increase Brand Loyalty
By having customers opt-in to your marketing campaigns, you form a bond with them that can last for years. So it's important that you don't abuse that trust, and that you only send them messages that are relevant to their favorite aspects of your brand. Getting them to opt-in can be tricky, but luckily there are always some incentives you can offer. Whether it's a mobile coupon or a full on mobile loyalty program, speaking to your customers wallets can be a great way to get them to opt in to receive your sales alerts.
Other benefits can include letting customers know about upcoming schedule changes like a new store opening or expanded summer hours. Texts should also include details about sales that are coming up soon, new products, and popular items that are back in stock.
Text Message Marketing for Better Surveys
Besides getting info about customers and their shopping habits like what they actually buy, a survey can get you more information that you can then use to better target your customers. You can let people know about the survey by sending a text, and then provide a link for them to visit.
The survey should mobile-friendly, since that's how most people will be ultimately taking it. If you have a service like Trumpia, our system can directly ask them the questions, and record their responses so you can better target them in the future.
The survey should not be too long because you want your customers to actually complete it, but there's also nothing stopping you from incentivizing them. Sending a customer a coupon after they complete the survey will make them feel appreciated, and increase the likelihood of filling out surveys and visiting your stores in the future.
Improve Summer Retail Sales with Automated Text Marketing
In order to streamline your sales process, you should use automated text messages to efficiently guide customers to your sales, both online and in-store. From getting new customers to sending them important reminders, a text messaging software like Trumpia can help you get more customers buying throughout the summer.
For example, if a customer joins your messaging campaign for the first time, our software can send them a welcome message as well. For example, a coupon for 20% off their next purchase. With deals like these, customers are far more likely to make the trek in-store or visit your shop online to take advantage of these deals.
Provide Faster, Better Customer Service With Text Marketing
Customer service is vital to making sure your customers become lifelong advocates for your business. Since over 33% of customers hang up as soon as they are put on hold, you are hurting your brand by not offering other ways to reach your customers. In fact, 64% of consumers would rather text customer service reps than have to call in.
If you choose an SMS service that offers landline texting, you can enable employees to send texts and answer customer questions through the number they already operate and advertise. This allows customers to conveniently ask for information like store hours, directions, and upcoming sales while they're on the go.
Use MMS Marketing to Attract Customers
One great way to spread the word about your new products or sales is through sending an attractive and fun picture message. It's important for your messaging to be inviting, so If you include an offer like giving a discount if the customer shows the MMS message at the checkout, your customers will be more likely to go to your brick-and-mortar stores to reap the rewards.
If you have a large contact list, dividing it into categories will allow you to better segment your customers and send them targeted SMS and MMS messages. If you group customers by things like sex, interests, or age, you can send them targeted offers that apply to their lives, increasing the chances that they visit you in-store or online.
If you choose to use an SMS solution like Trumpia, this can even be done for you automatically. If done correctly, this can help ensure you engage your customers throughout the summer and into the rest of the year, and beyond!
How Trumpia Customers used Text Message Marketing
Looking to boost in-store sales, Attic turned to Trumpia and was able to generate a month's revenue in just three days. By posting mobile keywords on the company website and social media via Trumpia's SMS system, they were able to drive traffic to their annual Black Friday sale and collect over 12,000 contacts through mobile opt-ins. And the results really showed, as Attic was able to generate 20,000 in sales in the first few hours!
Armory Survival Gear is a leading retail store based in San Diego. Using multi-channel marketing, they were able to blast out their customers and get them to come in for one-day-only sales. All in all, with Trumpia, they were able to meet 30% of their monthly revenue in just two days!
Jamba Juice of Bakersfield used Trumpia to do both mobile(SMS) and social media marketing campaigns. This was not just to boost sales, but also to have a conversation between the brand and their customers. First, they created the mobile keyword "JAMBA", which customers could text in to a shortcode order to subscribe to their marketing program. In order to entice them, they also offered a free 16oz smoothie coupon which was automatically sent to the customer when they texted in the keyword.
If you've considered text marketing but aren't sure where to begin, Trumpia's Sales Team is ready to discuss strategies that might help your business grow. We've helped countless retail stores make the most out of our text marketing software. Call or text us at 1-888-707-3030 to talk to one of our experts today!