In our article last week, we looked at some our most powerful automation features, including Smart Targeting, Auto Campaigns, Interactive Text Response System, Tracking, and Scoring. This week, we'll look at how different industries could use these features in conjunction with one another to boost revenue and productivity. This will make these potentially abstract ideas much more concrete.
Our unique Marketing Automation can be an effective tool for both large and small businesses in a variety of industries, ranging from retail stores to corporations and even churches. Here are just a few examples of how this automation can help your industry:
Send an internal memo and automatically remind employees who haven't opened it three days later. Or you can easily send benefits information to employees who qualify.
Send relevant newsletters, stock tips, or new product introductions based on your customer's click-through behavior and account profile. A bank could have a text automatically sent to a customer explaining a credit card's special promotion if they show interest.
Automatically sort your customers into groups based on how often they earn reward points or redeem coupons, letting you target specific offers to your most loyal customers and entice your less frequent ones. Track when a lead has visited your products page and send them a message with a sales representative's contact information.
Have a coupon for 20% off purses automatically sent to whomever clicks on a purse promotion. Then, send alerts for new purse releases to only those who used the coupon.
Click the image below to download our Retail Brochure for FREE!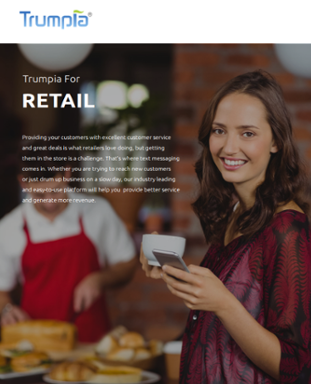 Schedule reminder alerts for prescription refills, appointments, or simple announcements regarding flu vaccination for previous beneficiaries. You can also sort your patients based on their primary care physician to notify them of the doctor's availability and substitutes if needed.
Set it so that when customers reach 9 points on your loyalty rewards program, they automatically receive a message letting them know they're only one point away from a free appetizer. Also, send coupons based on the redemption history of each recipient.

Sort your congregation by age, membership status, volunteer group, and which service they attend so you can keep them updated on any schedule or event changes. Send special prayer requests to various support groups.
Collect contact information from your students, their parents, and teachers, so you can keep them up to date on events that are relevant to them. Also, have our system automatically resend an important policy change if it hasn't been opened or clicked in a week.
Click the image below to download our Higher Education Brochure for FREE!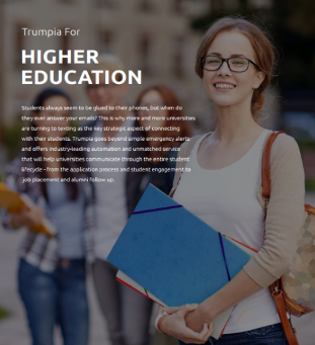 Send a contact a thank you message directly after they have made a donation. You can also automatically sort your largest donors into a separate list so you can specifically target them in future campaigns.
Send alerts and announcements based on interest. Then sort your volunteers by where they live and what skills they're willing to give to the campaign so you can contact whom you need, when you need them.
Schedule check-in and check-out reminders to be sent ahead of time. Also, send a text with an embedded link to fun activities around your area. Three months later, send an offer for a discounted stay the next time they are in your city.
These are just a few ways Trumpia's industry leading automation can help your business. Obviously, these are not the only ways you could use our automation, nor is this an exhaustive list of industries. So call one of our Trumpia reps or click here to learn more!
Download our Mobile Marketing Success Kit For Free!